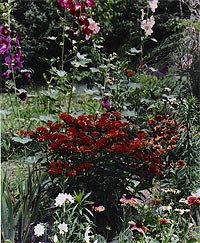 Tours
Although visitors are allowed to walk the trails without a guide, we recommend that first-time visitors receive a tour before venturing out on their own. Currently, tours at Sunny Fields are conducted at no charge. We do, however, encourage donations to help defray our costs in keeping the center open and available to the public. Donations are tax-deductible. Our season runs from April 1 - October 31.
Tours are available by appointment only, and we welcome your phone calls at 810-387-2765. Typical tour hours are 10am and 2pm on Saturday, Sunday, and Monday; however, other times and days can be arranged, and tours can also be tailored for particular interests. Tours generally last 1 1/2 hours. Directions to the site are provided when the appointment is made, or you can activate the Google Map by clicking on this interactive map link and typing your address in the Starting Address box, then clicking on Get Directions to display a map showing your suggested route.
Currently, approximately 25 acres of the property are available to the public. Sunny Fields is never the same twice. It is ever-changing throughout the year, and so every tour is a unique event.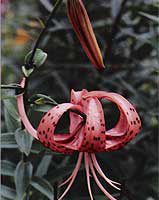 Tour Groups
To qualify for a tour, we prefer that you form a group of 6-30 people. Tours for individuals are also possible - contact us for details. For all tours, consideration is based on the availability of the tour guide and the nature of the requesting party. We encourage professionals in the horticulture, forestry, conservation, and ecology fields to visit us, as well as scouting organizations, garden clubs, schools, etc. Visitors under 18 must be accompanied by a responsible adult.
Parking
Free parking is available on the property. Directions to the parking lot are also provided at the time of your appointment. The parking lot is located at 5444 Welch Rd., Emmett, MI 48022 (not a mailing address).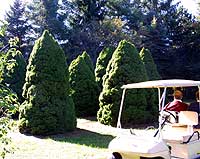 Getting Around the Park
Due to the nature of the property and its trail system, wheelchairs and strollers are not recommended; however, "pull-wagons" are allowed (motorized vehicles and bicycles are not allowed). Comfortable attire, and especially sensible shoes, are strongly encouraged. The trails are of natural materials, and mostly consist of mowed grass. There are no paved trails, and presently benches are very limited in number. You can also bring your own chairs.
If necessary, and with prior arrangements, we can often provide the service of our golf cart. Up to three passengers can ride on the golf cart, in addition to the guide.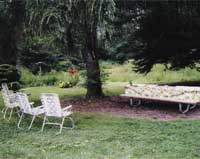 Facilities
An area is available with a picnic table and several chairs. There is also a restroom facility. Trail maps are available.
Weather
Weather, especially rain and thunderstorms, can sometimes necessitate the rescheduling of a tour. We recommend that you call ahead on the day of your tour if the weather is questionable. For your safety, sudden lightning storms typically signal an abrupt end to all tours.
---
Park Rules
Take only photos...Leave only footprints...
Leave no litter.
No pets.
Remain on the trails.
Do not move or damage any labels, signage, or park property.
Keep out of all water features. Do not add anything to waterways.
No alcoholic beverages.
No smoking.
No non-prescription drugs.
No firearms, weapons, hunting, fishing, or trapping.
No fighting.
No fires without authorization; restricted to designated areas.
Keep out of private, posted, and restricted areas.
No loud amplified entertainment devices; tranquility is encouraged.
Do not feed, disturb, injure, or remove any plants or animals.
Do not damage animal or plant habitats.
Do not pick flowers or harvest fruit without park authorization.
Do not disturb park features, including soil, stones, and rocks.
No running, shouting, or active competitive sports.
No tree, fence, or structure climbing.
No nudity.
No overnight use of the park.
Report any problems or concerns to park authorities at cabin site.
Visitors under 18 years of age must be accompanied by a responsible adult.
Enjoy and take care of the park. Leave it nice for others to enjoy.